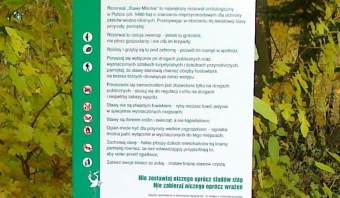 Tourism and nature
The increasing popularity of the Barycz Valley provides great opportunities for the development of this region, however also endangers its nature. In order to minimize the negative effects of an uncontrolled tourist movement, Foundation for Sustainable Development completed a project entitled "Nature friendly tourism in the Barycz Valley."
The Barycz Valley, including the "Milicz Ponds" natural reserve, is a Special Protection Area within the Natura 2000 network and one of the most valuable bird refuges in our country. Many rare species build their nests here. The mosaic of waters, forests, fields and meadows near the Barycz River is also a very important stop in the migration of birds from their breeding sites to wintering areas.At the same time, this remarkable land becomes a more popular destination for hiking.The bird paradise attracts ornithologists and birdwatchers, however all tourists and naturalists may admire the diversity of plants and animals of this interesting region.More and more often, forest roads of this land are travelled by fans of "two wheels", while waters of the Barycz River – by enthusiasts of canoeing.Finally, this is the place where runaways from noisy urban jungles seek for peace and quiet.
The increasing popularity of the Barycz Valley provides great opportunities for the development of this region.However, there is also the other side of the coin –over-intensive tourist movement brings threats to nature.Visitors of the reserve often unintentionally cause damages to bird hatches or disturb the animals in their feeding areas.For this reason, it was absolutely necessary to redirect the tourist pressure, so that potential damages could be limited and minimized.
This was the aim of the project: "Nature friendly tourism in the Barycz Valley",carried out by the Foundation for Sustainable Development within the Infrastructure and Environment Operational Programme, Priority Axis 5 – "Construction or modernization of small tourist infrastructure, securing the protected areas against excessive and uncontrolled tourist pressure."
The project was co-financed by the European Union, from the funds of the European Regional Development Fund, and by the National Fund for Environmental Protection and Water Management.
In detail, the aim of project was to limit the occurring and predicted pressure of tourist movement and therefore protect bird species living within the "Barycz Valley" Natura 2000 refuge, comprising the ornithological reserve of the "Milicz Ponds."This goal was achieved with the development of special infrastructure, including sites for avifauna observations (birdwatching tower and look-outs), educational facilities, network of educational paths, all described and marked with graphic symbols, and signposts, directing the tourist movement. Thanks to such an infrastructure, touring may be safe and friendly for the regional nature, especially for its most valuable component – the bird world of the Barycz River.